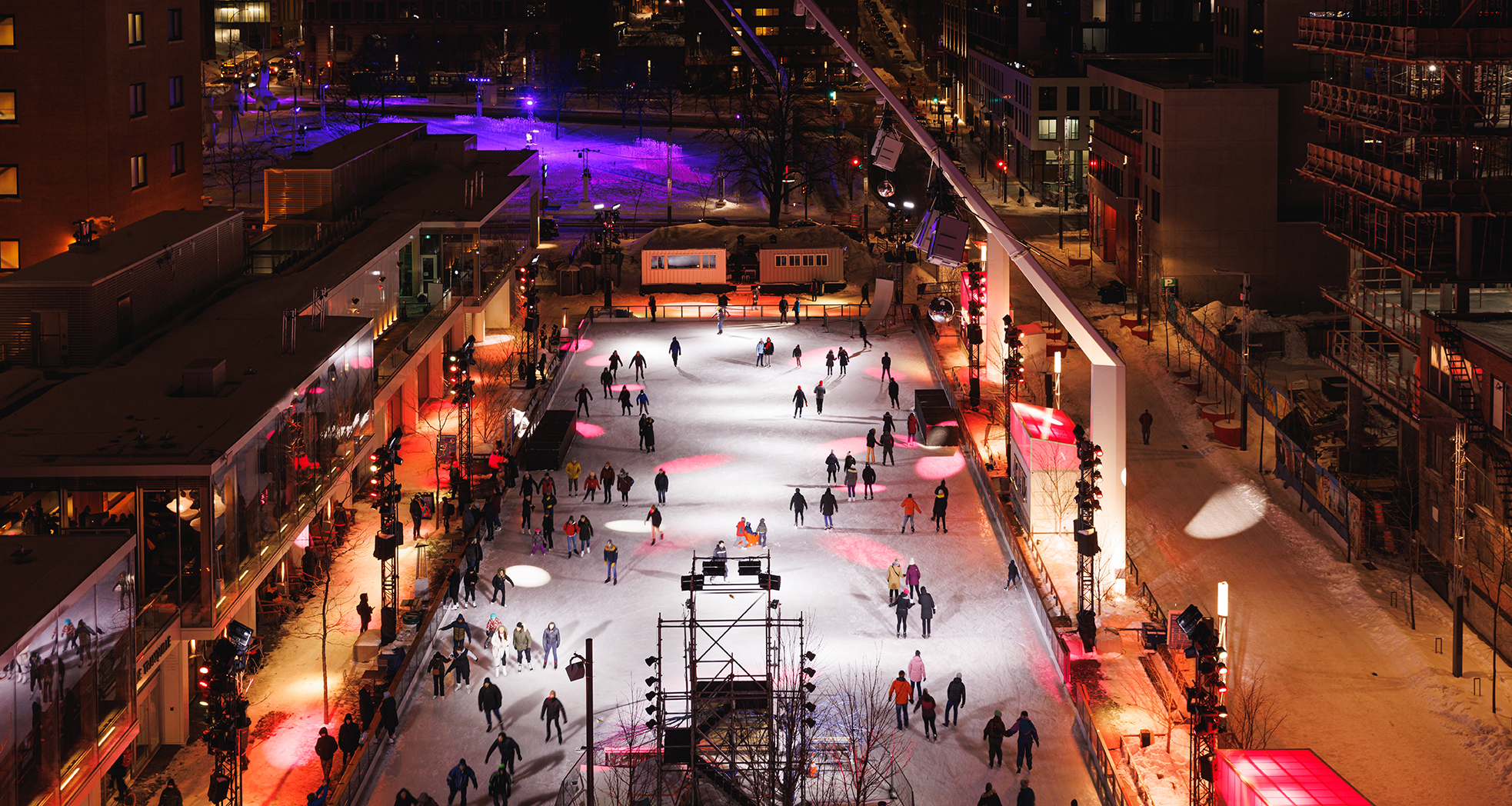 In the heart of downtown Montreal, we now offer skate and sharpening rentals at the brand new Esplanade Tranquille rink. We are pleased to offer quality equipment to citizens and tourists visiting our wonderful metropolis to allow them to try out one of the most beautiful refrigerated skating rinks in Montreal.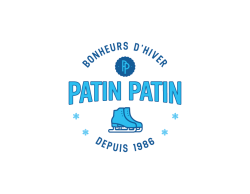 Skates
Recreational type skates.
Size for men (6-14), women (6-12) and children (J8-5)
11.96$ (adult)
10.00$ (13 years and -)
Learning aid (child size)
Zamboni-shaped learning aid to teach children to skate in a fun and safe way.
In limited quantities.
Mon. - Fri. from 9 a.m. to 10 p.m.
Sat. - from 9 a.m. to 11 a.m.
Helmet
Alpine ski type helmet
Sizes for men (S, M, L), women (S, M, L) and children (S, M, L)
Padlocks rental
A padlocks loan to keep your personal belongings safe in the lockers provided.
Access to ice rink is free!
Rental and loan rates are for a maximum of 2 hours of use.
An identity card must be left in deposit for the loan.
Skate sharpening
An ice skate sharpening service is offered for both round and artistic blades.
Rates do not include taxes
Frequently Asked Questions
ACCESS AND RESERVATION
1
DO I NEED TO BOOK IN ADVANCE OR BUY TICKETS TO ACCESS THE RINK?
Access to the Esplanade Tranquille ice rink is free and open to all. For the rental of skates and related skating equipment, you can book directly online on this page, or otherwise go to our rental counter located inside the Le Repaire pavilion at the Esplanade Tranquille.
2
UNTIL WHEN IS THE ICE RINK OPEN?
For the 2022-2023 season, the rink will be open until mid-March 2023, weather permitting.
3
DOES THE ICE RINK CLOSE IF IT RAINS?
The rink must close in the event of heavy rainfall.
ICE RINK AND SKATE RENTAL
1
IS THERE A TIME LIMIT ON THE ICE RINK?
No time limit is imposed on the rink. If you rent skates, you can keep them for 2 hours
2
IS THERE A MAXIMUM CAPACITY ON THE RINK?
Yes, the maximum capacity is 400 people at the same time.
3
WHAT IS THE TOTAL SKATING SURFACE?
The surface of the ice rink is 1,500 square meters.
4
WHERE IS THE SKATES RENTAL?
Our rental counter is located inside the pavilion on the ground floor (Repaire). Equipment rental is for a maximum of 2 hours of use. An identity card must be left on deposit.
5
ARE SKATING LESSONS OFFERED?
On certain days during the winter season, our instructors walk the ice offering advice to adult and child skaters. This service is offered free of charge. No reservation necessary.
6
WHERE CAN I HAVE MY SKATES SHARPENED?
We offer the sharpening of your skates (hockey and figure skating blade) directly at our rental counter. Sharpening prices can be found on our website.
7
ARE THERE ANY RESTAURANTS ON SITE?
During the winter season, there is a café in the Grand Salon on the second floor of the pavilion which serves hot and cold drinks, as well as a range of snacks and pastries. There are also several restaurants and cafes located in the Quartier des Spectacles.
8
IS THERE A PLACE WHERE I CAN PLACE MY PERSONAL BELONGINGS?
There is a cloakroom located in the pavilion (le Repaire) with lockers available free of charge. You can bring your own padlock or rent one from our rental counter.
9
WHERE CAN I COLLECT A FORGOTTEN PERSONAL EFFECT?
If you are there, you can go directly to the reception desk and give the details of the lost item. If you are no longer there, we invite you to send an email to
[email protected]
with a detailed description of the object. We will be able to confirm whether the object has been found or not.
PRACTICAL INFORMATION
1
ARE THERE TOILETS AVAILABLE?
Universal toilets are available inside the pavilion.
2
CAN I BRING MY OWN FOOD AND DRINK TO THE SITE?
It is possible to bring your food and non-alcoholic drink inside the pavilion as well as outside the Esplanade Tranquille site. However, it is not possible to consume food or drink on the ice rink. Please note that it is strictly forbidden to bring or consume alcohol on the site.
REGULATIONS
1
IS WEARING A HELMET MANDATORY?
It is not mandatory to wear a helmet on the rink. Wearing a helmet is however recommended if you do not have much experience on the ice.
2
CAN I ACCESS THE ICE RINK WITHOUT SKATES?
It is forbidden to access the ice in shoes or boots. If you don't have skates, we have everything for you! Come see us inside the pavilion (Le Repaire) so that we can get you the right shoes!
Unless there is a specific event, pets are accepted on the esplanade site, but they are prohibited on the skating rink.
4
DOES THE ICE RINK WELCOME CHILDREN?
Children are of course welcome! Children under 10 must be accompanied by an adult. It is forbidden to carry children in your arms or in a baby carrier on the ice rink. It is also forbidden to use your own sleds and strollers on the ice. Our rental counter rents learning materials to allow children to learn in complete safety.