Let yourself be carried away by your child's heart and go skating on the magnificent ice trail at Parc Jean-Drapeau. Since it is refrigerated, the skating trail offers a smooth gliding surface and can remain open even when the weather is milder. Don't have ice skates? No problem! You can find the perfect pair at our rental center located very close to the huge Calder sculpture. We also offer a range of rental equipment and accessories to allow you to spend a day filled with outdoor activities in one of the most beautiful parks a few minutes from downtown Montreal.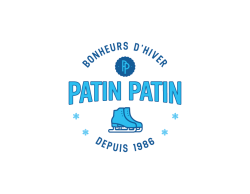 Skates
Recreational type skates.
Size for men (6-14), women (6-12) and children (J8-5)
*For children aged 17 and under, residents of Montreal, the child must be accompanied by an adult user who must present proof of residence in order to obtain free skate rental.
$11.96 (adult)
$10.00 (child 13 and -)
free
(17 and - resident of MTL)
Learnind aid (child size)
Learning aid to teach children to skate in a fun and safe way.
Helmet
Alpine ski type helmet
Sizes for men (S, M, L), women (S, M, L) and children (S, M, L)
Padlock rental
A padlock loan to keep your personal belongings safe in the lockers provided.
Access to the ice is free!
Rental and loan rates are for a maximum of 2 hours of use.
Skate sharpening
An ice skate sharpening service is offered for both round and artistic blades.
*Rates do not include taxes
Rental of our other products
Cross-country skiing
Whether you are a cross-country skier or want to try a new sport this winter, Parc Jean-Drapeau offers 2 marked and maintained trails. One of the trails on Île Sainte-Hélène is about 750 meters long and is perfect for beginners, while the other on Île Notre-Dame offers a 5km course that will appeal to intermediates and intermediates alike. 'to those who are just starting out.
$21.74(adult)
$19.74(child)
No reservations possible for cross-country skis - first come, first served!
Snowshoes
What better way than to take advantage of the pleasures of winter than a beautiful snowshoe hike. There are several wooded trails in Parc Jean-Drapeau accessible by snowshoes to follow at your own.
$9.57(adult)
$7.83(child)
Fatbike
For fatbike enthusiasts, there are uneven trails on Mont Boullé at Parc Jean-Drapeau that not only allow you to discover the beauties of the park, but also offer a breathtaking view of downtown Montreal. For those wishing to try the fatbike before getting one, we offer hourly rental on site at Parc Jean-Drapeau.
$26.09(adult)
$21.74(child)
No reservation possible for fatbikes - first come, first served!
Snow scooter
Visitors looking for new activities can try out the snow scooter on magnificent groomed trails. Slide easily on the snow alone or accompanied by your partner for a memorable ride.
$9.57
Rates do not include taxes
Frequently Asked Questions
ACCESS AND RESERVATION
1
DO I NEED TO BOOK IN ADVANCE OR BUY TICKETS TO ACCESS THE RINK?
Access to Parc Jean-Drapeau is free and open to all, as is access to the skating rink and the skaters' trail.
2
UNTIL WHEN IS THE ICE RINK OPEN?
For the 2022-2023 season, it will be open until March 5, 2023, weather permitting.
3
DOES THE ICE RINK CLOSE IF IT RAINS?
The rink must close in the event of heavy rainfall.
ICE RINK AND SKATE RENTAL
1
IS THERE A TIME LIMIT FOR SKATES RENTAL?
We allocate 2 hours for skate rental.
2
WHERE IS THE SKATES RENTAL?
Our rental counter is located in Espace 67 next to the huge Calder sculpture.
3
ARE SKATING LESSONS OFFERED?
No skating lessons are offered at Parc Jean-Drapeau.
4
WHERE CAN I HAVE MY SKATES SHARPENED?
We offer the sharpening of your skates (hockey or figure skating blade) directly at our rental counter.
5
ARE THERE ANY RESTAURANTS ON SITE?
There are a few food offerings on site, including the Bistro Ste-Hélène near the Jean-Drapeau Metro station. During the winter season, there will also be an outdoor food offer near the square near the Calder sculpture. You can also bring a lunch to eat outside on warmer days.
6
IS THERE A PLACE WHERE I CAN PLACE MY PERSONAL BELONGINGS?
There will be outdoor lockers near our rental center where you can leave your belongings. We offer padlock rentals.
7
WHERE CAN I COLLECT A FORGOTTEN PERSONAL EFFECT?
If you are there, you can go directly to the rental counter and give the details of the lost item. If you are no longer there, we invite you to send an email to
[email protected]
with a detailed description of the object. We will be able to confirm whether the object has been found or not.
RULES
1
IS WEARING A HELMET MANDATORY?
It is not mandatory to wear a helmet on the rink. Wearing a helmet is however recommended if you do not have much experience on the ice. We offer helmet rental at our counter.
2
CAN I ACCESS THE ICE RINK WITHOUT SKATES?
It is forbidden to access the ice in shoes or boots. If you don't have skates, we have everything for you! Come see us so we can get you the right shoes!
Unless there is a specific event, pets are accepted in Parc Jean-Drapeau, but they are prohibited on the skating rink or on the skaters' trail.